For most of the year, moose lead an unsocial and uneventful live. They roam Denali National Park and most of their time is spent feeding and resting. But during autumn, their behaviors change dramatically as the rutting season starts. They become social and bulls as well as cows gather at so called rutting areas. The rut begins in late August, reaches its peak by mid September and lasts until early October.
The rut starts slowly with some sparring. Smaller bulls and cows feed together while large bulls stop feeding and devote all their time to rutting. With time the sparring skips into fighting and those fights can be serious and violent. The actual mating does not begin until late September.
Denali National Park offers a unique opportunity to observe and photograph the rut. One promising area to view the spectacle is along the park road between Miles 7-11.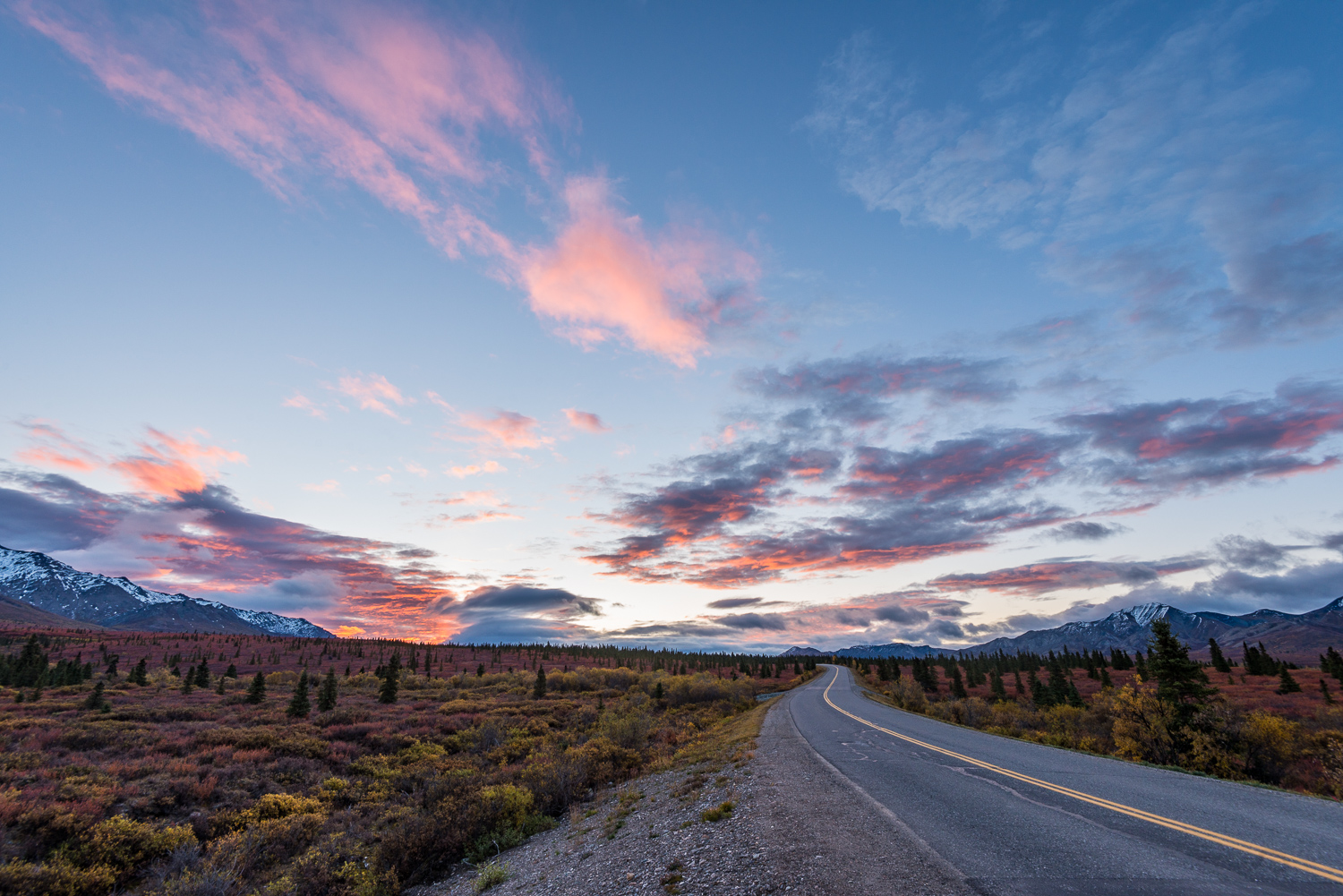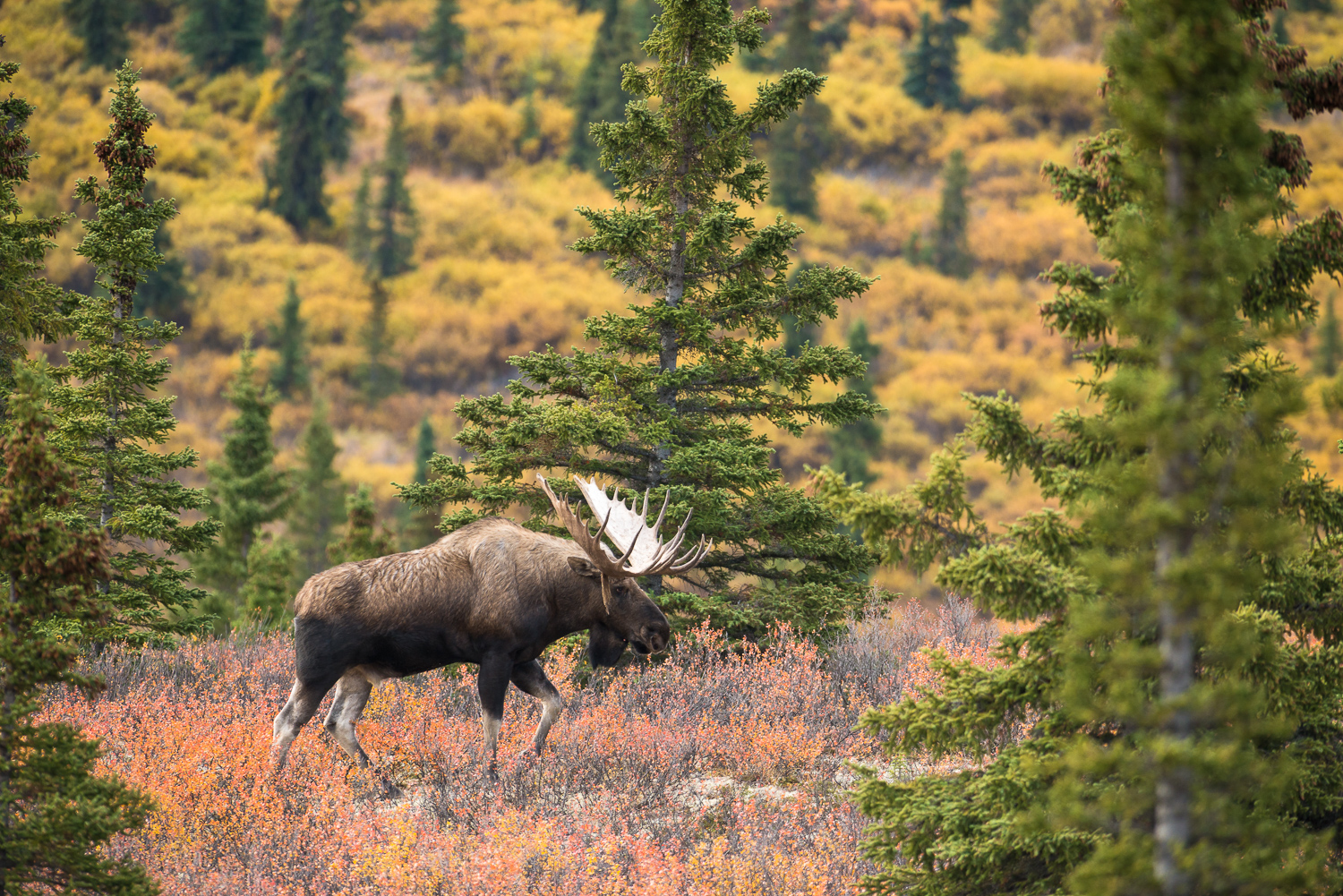 After 18 days of guiding a photography tour I stayed in Alaska for a few more weeks. I thought it might be a good idea to go to Denali National Park and photograph the moose rut. I was there in the second week of September, the fall colors were still amazing and the mountaintops of the nearby Alaska Range were already dusted in snow. And YES there were many moose!
I spent the morning and evening hours of the next week photographing the moose rut and it was an amazing experience. It was too early for the real fights but I saw some sparring and the boys were chasing after the girls like crazy. The large bulls were constantly roaming the rutting area, looking for opponents and tried to impress the cows.
After a week I left Denali National Park and the moose to start my way down to Southeast Alaska. I was looking for some bears and bald eagles. But before I took my flight back home to Europe I returned for a few more days in late September/early October.
In mid September the Park stops to operate their Bus system. As private vehicles are prohibited along the park road from Mile 15 on, these busses are almost the only way for tourists to get into the park (beside hiking and cycling). Without the tourists, the park was empty. There were only some National Park Rangers at the administration and a handful of other people along the way. As long as there is not to much snow and the park road is drivable, you are now allowed to drive the road up to Mile 30. I enjoyed this opportunity to photograph dall sheep in the Primrose Ridge area and did some hiking in the Igloo Mountain area.
The encounters with moose became less but from time to time I was able to observe and photograph some. The temperature started to fall increasingly and during the nights I had below -12°C in my tent. The rutting season was almost over and so was my time in Alaska…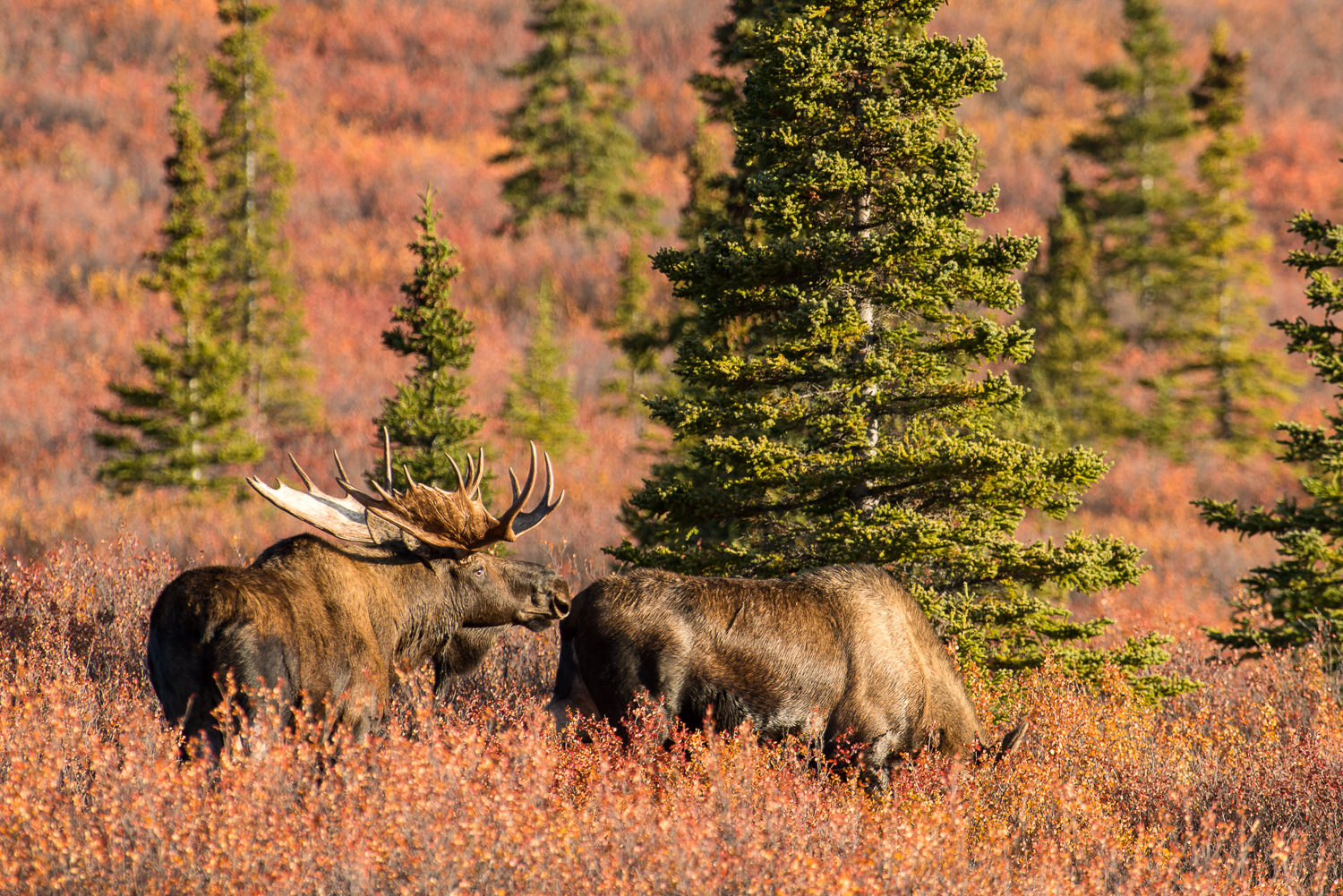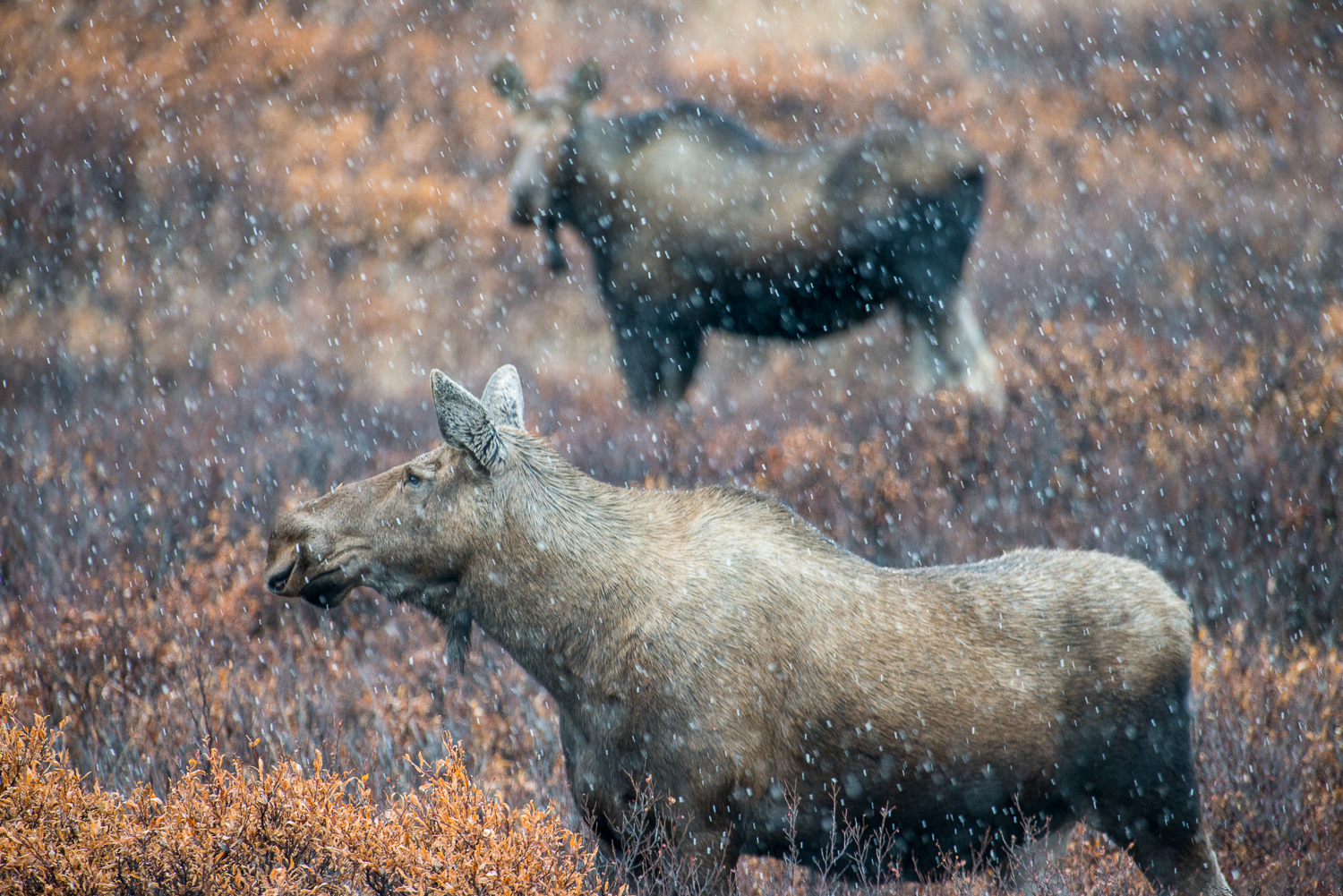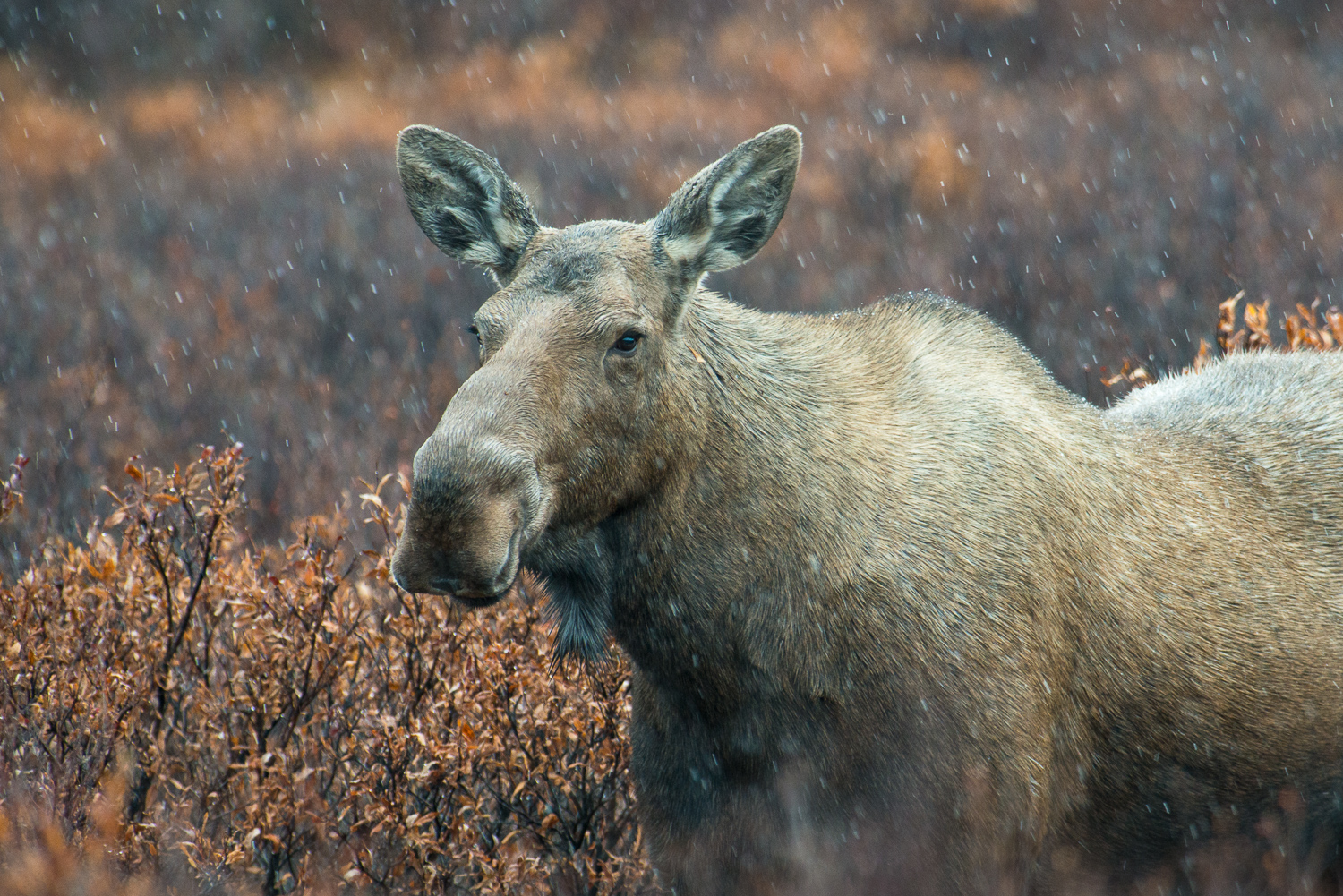 ---
---
You might also like